Sports Medicine Treatments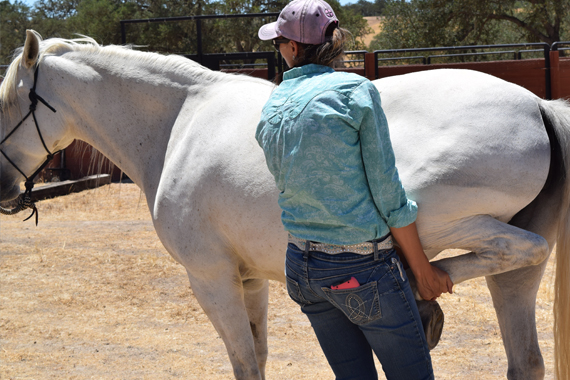 LAMENESS EXAMINATION & DIAGNOSIS
This is a process to evaluate how your horse is moving and if they are comfortable in their everyday working abilities. Not only do we detect where the lameness affects the horse, but we can help you to understand how the animal is compensating for their injury as well.
WHAT TO EXPECT IN A LAMENESS EXAM
BY CRESTON LARGE ANIMAL:

- History of the animal
- Determine the lame limb at rest & walking
- Palpate all limbs: check sole, hoof testers, and palpation
EXAMINE HORSE IN MOTION TO CONFORM LAME LIMB. THIS MAY INCLUDE:
- Hand walking
- Trotting
- Flexion test and trotting off
- Lunging
- Riding under saddle
- Gait analysis
RESPIRATORY DISEASE EXAMINATION & DIAGNOSIS
There are several respiratory diseases horses can catch which are passed on very easily. Thus, it is easier and cheaper to fix the problem right away and only treat one horse instead of waiting and treating the entire barn. Respiratory disease is an especially large issue for performance animals. While you want to keep the animal feeling and performing at their best, if they have a respiratory disease they often will go off feed and it is difficult to keep them in shape. Let Creston Large Animal help you keep your horses healthy for maximum performance.
COMMON SIGNS OF EQUINE RESPIRATORY ILLNESS:
- Cough
- Nasal discharge
- Labored breathing
- Loss of appetite
- Depression
- Reduced performance
- Flared nostrils
- Pronounced line along abdominal cavity
THINGS TO CONSIDER WHEN DETERMINING WHAT RESPIRATORY DISEASE YOUR HORSE HAS:
- Age and breed of the horse
- Environment
- Prior/Preset medical problems
- Physical examination results
- Labored breathing
- Breathing patterns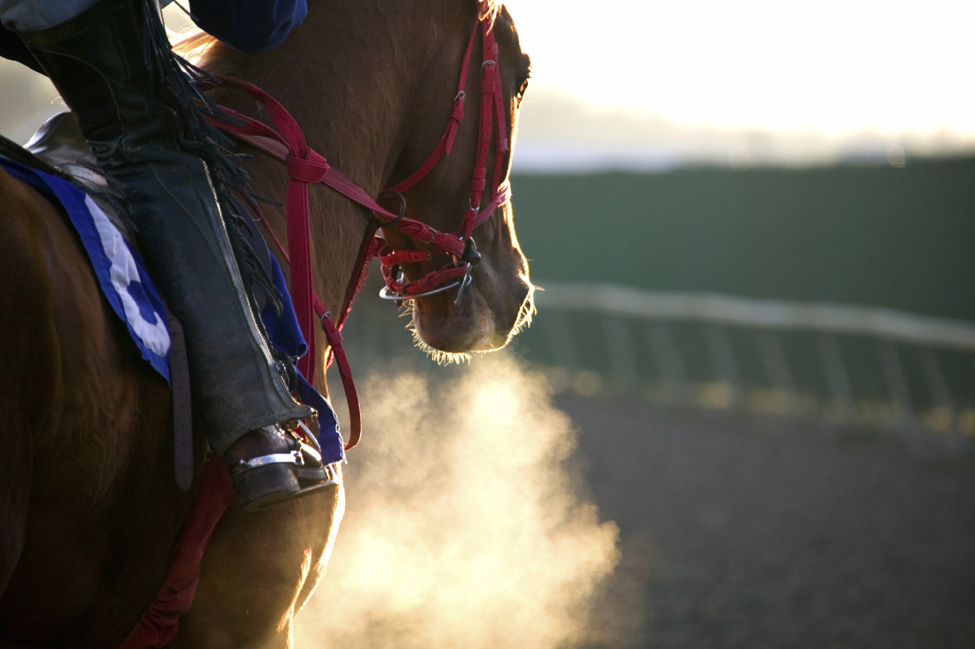 BREATHING PATTERNS
Eupnea: Normal effortless breathing.
Tachypnea: Rapid and frequent shallow deep breaths.
Hyperpnea: Increase in depth and rate of breathing like after exercise.
Apnea: When no respiratory effort is made and airflow has ceased.
Hypoventilation: Pattern of breathing that increases alveolar ventilation.
Respiratory Distress: Appears to reflect difficulty, increased work of breathing is obvious.
TESTS WE CAN PERFORM TO BETTER UNDERSTAND YOUR ANIMAL'S ILLNESS:
- Endoscopy
- Sinuscopy
- Tomography
- Sample Respiration Tract Secretions
- Radiography
- Ultrasonography
- Thoracocentesis
- Pulmonary Function Testing
- Lung Biopsy
- Thoracoscopy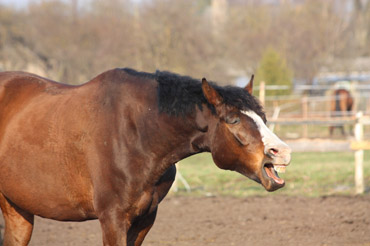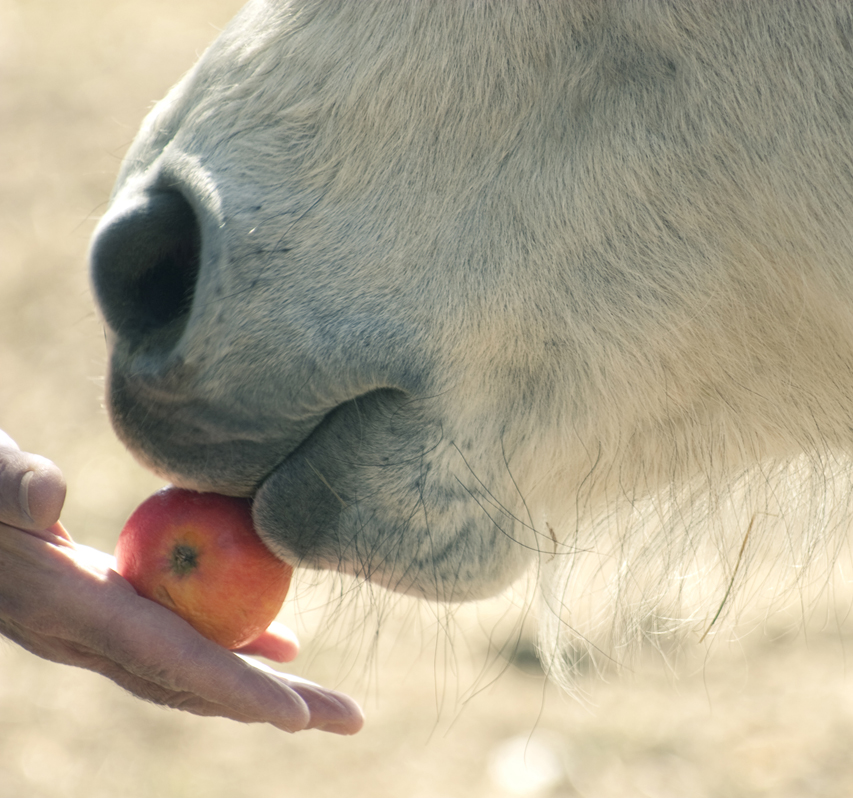 PERFORMANCE PHARMACOTHERAPY, CONDITIONING, & NUTRITION PLAN DEVELOPMENT
Developing a horse's nutritional plan and finding what they need isn't always easy. Many owners mistakenly feed their horse as if they were going to the Olympics, when in reality they trail ride once a week. Creston Large Animal will help you feed your horse according to what their true workload is. Developing the right combination and balance of roughage, protein, fat, and carbohydrates takes some research, as well as trial and error. Sometimes owners think they're doing right by their horse, but feeding too much of a good thing can cause founder, colic, and much more. On the other hand, not giving them enough could take away from a horse's essential nutrients they need to function. We work close with Platinum Performance Reps and can recommend quality products for total health and care of your horse. From handling your senior horse, to managing digestive and joint needs, to maximizing performance in your show horses - Creston Large Animal can recommend supplements that fit your particular horse. Two of the most common equine supplements Creston Large Animal recommends are:
Platinum Performance Equine: Support all aspects of your horse's health from digestion to joints, skin & coats, hooves, and much more. Chosen by horse owners since 1996, this wellness formula delivers more than 10 supplements in every scoop.


Platinum Performance CJ: Our most potent joint support formula provides all the benefits of Platinum Performance Equine plus advanced joint supporting ingredients like ASU, MSM and hyaluronic acid. This product is especially popular with performance horses and senior horses.
PRE-PURCHASE EXAMINATIONS
This is not required when you buy or sell a horse, however if you're spending a reasonable amount of money for a horse it might be a good idea to get a professional opinion on the horses overall health to protect your investment. It may end up that a free or cheap horse might cost you more money than if you were to pay more for one upfront.

Here are the three phases and what to expect from a pre purchase exam by Creston Large Animal:
Basic health evaluation, including health history, temperature, pulse, respiration, general condition, and conformation.
Lameness assessment, including flexion tests, soft tissue palpation and movement evaluation.
Ancillary diagnosis that might not come into play, including radiographs (X-Rays), ultrasound, magnetic resonance imaging (MRI), and bloodwork.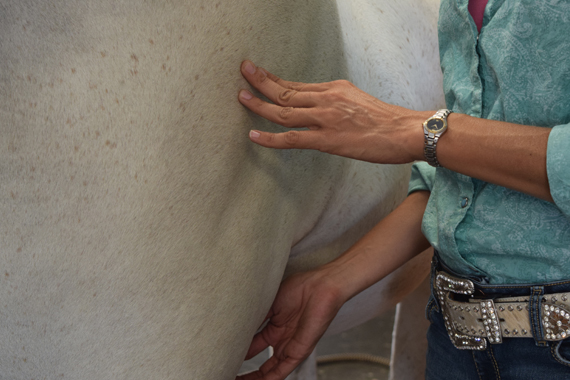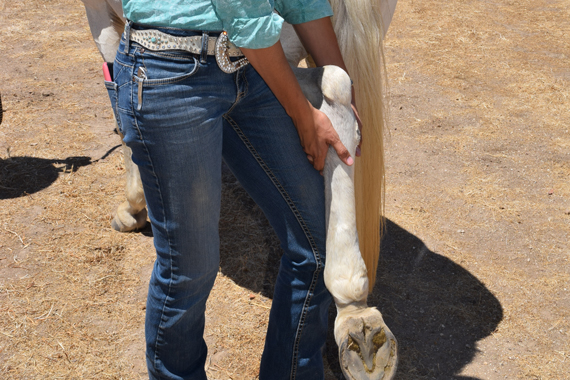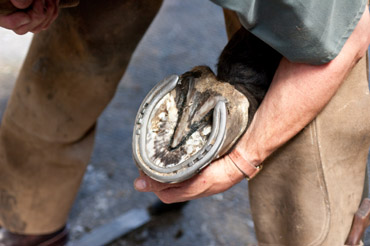 PREPPING FOR PURCHASE
To-Do List
- Request the horse's health history (including vaccination, deworming, and farrier records) from the seller, as well as any previous X rays.
- Get the seller's permission for the horse's current veterinarian to release information on the horse to you and/or your veterinarian.
- Talk to your veterinarian about what will be included in the basic exam and what he/she will charge. Ask about costs for additional diagnostics that you might consider.
Common questions to ask the owner:
Why is the horse for sale?
How long has it been for sale and is there anyone interested in it?
Has it been lame?
Does it need special shoes?
Has it had colic before? If so, did it have surgery?
Ask yourself:
What do I want to use the horse for?
How long do I expect to own/use the horse?
Have I spotted any issues of concern during earlier visits with the horse?
What management issues, if any, am I willing to deal with?
What are the "deal-breaker" issues for me?
What is my budget for the pre purchase exam?
What additional diagnostics am I willing or able to pay for?
what we offer
lameness exams
joint injections
irap injections
stem cell
tildren & osphos
preventative medicine