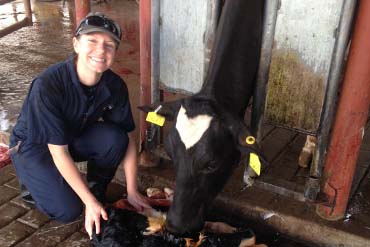 Dr. RachAel Lyons
Dr. Rachael Lyons wanted to be a veterinarian from an early age and has always been fascinated with animals (especially horses), medicine, and surgery. She attended Cal Poly, San Luis Obispo and received a bachelor's degree in Animal Science and a minor in Equine Science. Rachael was awarded the Distinguished Senior of the College of Agriculture, Food, and Environmental Sciences upon graduation. It was at Cal Poly that Rachael fell in love with ruminants, both large (cattle) and small (sheep and goats) through classes and enterprise projects. She also managed the Cal Poly Equine Center as a student.
Rachael graduated from UC Davis School of Veterinary Medicine with a focus on large animal medicine and surgery in 2015. She then moved to Tennessee and completed a one-year large animal rotating internship at the University of Tennessee's College of Veterinary Medicine, where she learned from specialists and taught veterinary students while seeing a variety of cases. Although she enjoyed living in the Southeast, Rachael missed the Central Coast of California. She returned to the area to work on a busy thoroughbred breeding farm for one year and honed her skills in equine reproduction and neonatal foal care.
In her spare time, Rachael loves being active and spending time with her husband Mark, horse "Mr. Strawberry" (Cal Poly born and raised!), and dog "Honey." She enjoys horseback riding, cattle sorting, playing soccer, biking, running, kayaking, hiking, camping, and snorkeling.
Rachael is very excited to join the Creston Large Animal Veterinary Services team and provide quality services to the people and large animals living in her favorite area. She enjoys the challenges of being a mixed large animal ambulatory practitioner, and looks forward to meeting new people and promoting large animal health and wellness.