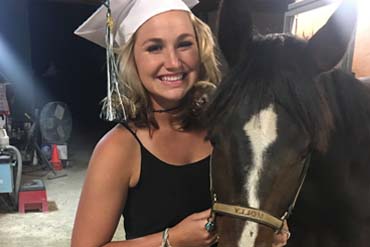 Aubree Scobie
Aubree Scobie grew up in Paso Robles, CA, the only child of Mark and Rachele Scobie. She has been riding horses her whole life and has competed in California High School Rodeo Association's (CHSRA) D7 for three years. She is also a member of APHA as well as AQHA.
Aubree lives at her family's horse training barn, Scobie Performance Horses. Her mom is an all around APHA and AQHA trainer and her dad used to Pro Rodeo and still competes occasionally. Her dad also grew up on a ranch in Parkfield, CA where her grandparents still own cattle.
She eats sleeps and breathes animals having: 5 horses, 2 goats, 2 dogs, and, a cat. She recently graduated high school and is ecstatic to be a part of the Creston Large Animal Team.